Big news from Palo Alto, California. Facebook CEO Mark Zuckerberg announced the acquisition of longtime rival MySpace from News Corp. Purchased in 2005 for $580 million, MySpace's continual decrease in traffic "is not acceptable or sustainable" according to a News Corp spokesperson. Terms of the Facebook acquisition have not been released, but are speculated to be less than $50 milllion.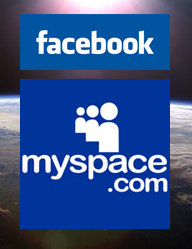 Facebook MyspaceIndustry analysts speculate the Facebook acquisition of MySpace is driven by several key factors: One, to secure the personal data of nearly 34 million still active accounts to expand the Facebook ad network reach and exposure. Two, to enable users to check into bands/performances on MySpace using Facebook Places. Three, acquire the graphics and user interface (UI) design expertise offered by MySpace personnel.
"The addition of 34 million users, many in the music industry, will help Facebook reach our goal of 750 million accounts by the end of 2011. Having the talented MySpace design/UI staff on our bench is exciting as we consider page layout and design renovations later this year," reports Zuckerburg. "I'm also thrilled to announce a branding initiative to rename Facebook to better reflect our new identity. As of July 2011, Facebook will change it's name to 'SpaceBook' to better reflect our personality and market coverage area.
Quoting famed British scientist Stephen Hawking, "I see too many dangers for the human race," warns Zuckerberg. "I believe that the long-term future of SpaceBook must include alien beings" he said. "It will be difficult to sustain a social networking site on planet Earth in the next hundred years, let alone the next thousand, or million. Plus our advertisers simply demand more gross impressions than available human beings on Earth."
For complete coverage of this breaking story, click here.