The Dynamit team is proud to announce the launch of www.MyCandiceDesign which offers an array of gorgeous furniture designed by HGTV Divine Design star Candice Olson. Fellow Ohio company Norwalk Furniture is the exclusive manufacturer of Candice Olson upholstered furniture. Working with the Norwalk web team, Dynamit created the visually striking www.MyCandiceDesign.com site featuring LiquidPixels technology that enables dynamic fabric draping/rendering to give highest fidelity product views possible.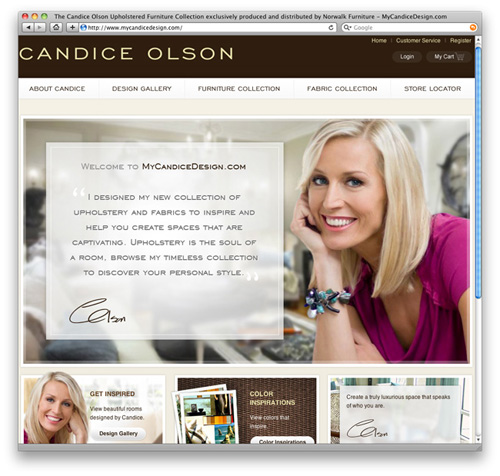 The website's "My Candice Design" theme is implemented throughout with exclusive, Candice Olson-recommended furniture and fabrics. The design gallery offers a variety of inspirations sure to get your creativity flowing. Seriously, Candice and Norwalk Furniture know what they're doing — their stuff is gorgeous.
On a personal level, I have to especially compliment Norwalk Furniture for their teamwork, resolve, trust and sheer ability to get things done. Having worked in web development for 15-years, I've rarely seen such a disparate group of internal stakeholders (marketing, accounting, designers, IT, consultants, photographers and management) work so uniformly and with such a cooperative, positive attitude. The website is complicated. There are an incredible number of behind-the-scenes details to make everything come together for such a high-touch, online commerce experience. This was truly a group effort that got the mission accomplished.
So if you're a Candice Olson fan whose always dreamed of making your home a little more divine, you're now just a few clicks away — MyCandiceDesign.com